A Tribute to The Golden Girls: From Sharing Cheesecake to Relaxing on the Lanai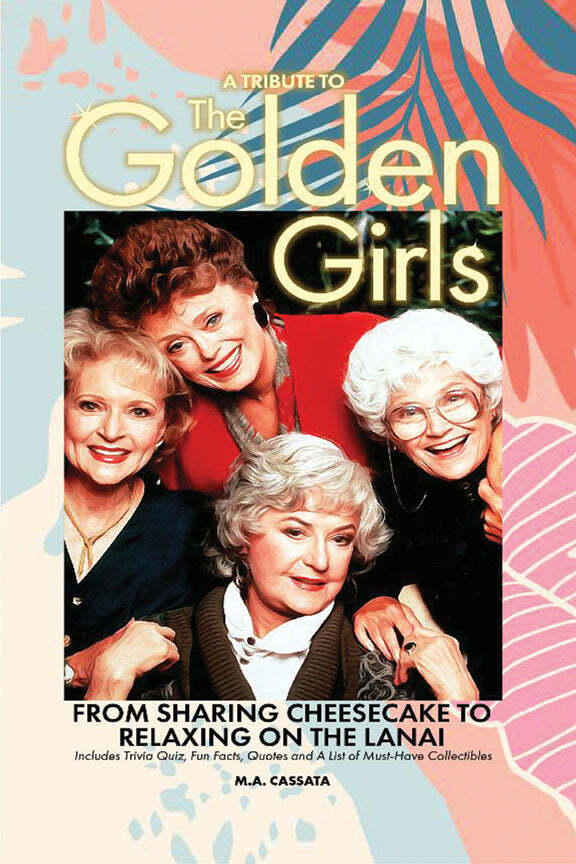 The Golden Girls still remains fresh today with generations of new viewers. It is considered one of the most treasured sitcom TV shows of our time.

I wrote this book to bring enjoyment to people of all ages who love The Golden Girls. Contained within these pages are both 250 easy and challenging quiz questions, random facts, memorable quotes and a list of must-have collectibles for serious of fans.
Do you know which Golden Girl asks the other two, "What happens when there is only one of us left?" Do you know who was Sophia's partner in a bowling competition? Or how many awards the sitcom received over a seven-year period?
Interview

With The Author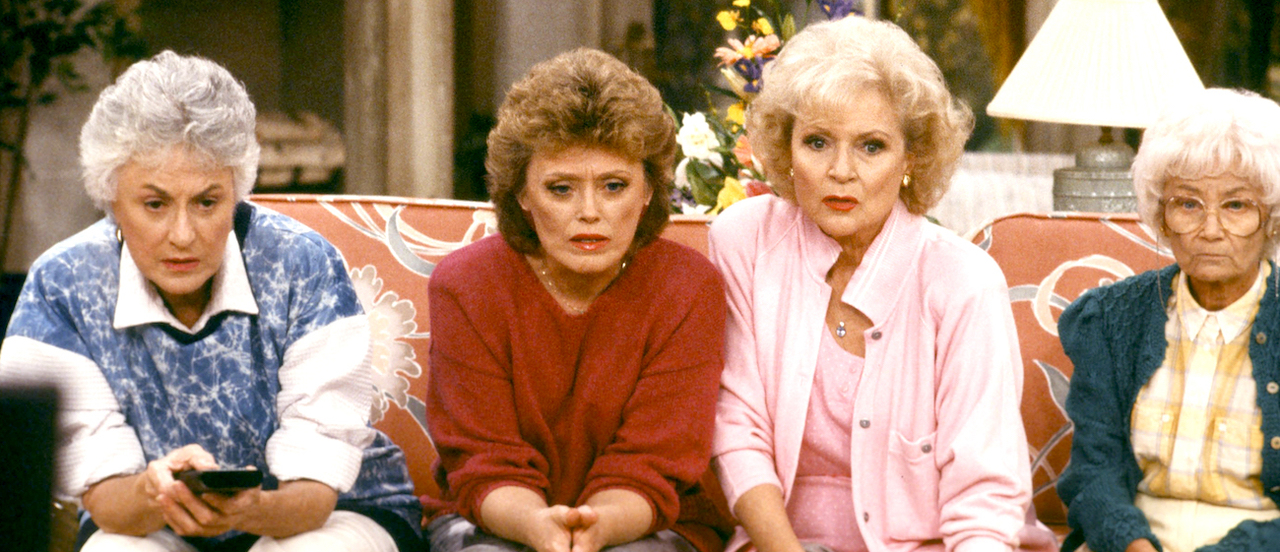 Tell our readers about your background in entertainment book publishing.

I've always been fascinated by pop culture. I started as a freelance entertainment writer for print publications, including USA Today, People Weekly Variety, and Hollywood Reporter. I'm the author of 22- plus entertainment/celebrity books, including Timeless TV Trivia Quiz and Random Facts, Pop 'n' Rock Trivia Quiz: '60s to '80s, The Superheroes Movies Trivia Quiz Book and other entertainment/celebrity-themed tribute books, The Elton John Scrapbook, Starman: A Tribute to Bowie, The Cher Scrapbook and The Essential Jim Carrey. I was an entertainment editor on various celebrity specials, including Frank Sinatra, Elvis, The Royals, Michael Jackson, Lady Gaga, and Leonard Nimoy, which was my last tribute magazine before my newsstand publishing house closed. In addition, I was also editor-in-chief of various teen, rock, and country music magazines. Consecutively, I continued writing celebrity tribute books as a magazine editor. If you go to my author's site, macassata.com, you can see more of my agent and non-agent work.

Why did you write a book on The Golden Girls?

I knew several books were already published on The Golden Girls, including a few trivia-based books. I saw other extensive information books on the show. I didn't want to do a reference guide where I would have to explain the references or one of those books that breaks down each character on the show. That had already been done. It's not what I had in mind. Besides being passionate about the show and the characters (not so much the lives of the actors that played them), I wanted to do a short, fun, informative tribute book that featured all the necessary elements: a quiz, facts, straight quotes from the characters, and a list of collectible memorabilia. My background is in tribute books and magazine specials. I have an agent, but I am also allowed to sell directly, and I knew BearManor published entertainment books and understood my passion for writing them. I have two other entertainment-based books with the company, and that's good enough for me.

Why are fans still obsessed with The Golden Girls 38 years later?

Besides, it was a ground-breaking sitcom involving four senior women living and dating in Miami, Florida. The critical acclaim and popularity over three decades, it is no coincidence that The Golden Girls, as one TV critic described: "It was the perfect television program— in turns, warm and dry, empathetic and sarcastic." The show continues to dominate pop culture, running in syndication and finding new generations of fans. There's also a ton of The Golden Girls collectibles and other memorabilia. I love researching collectibles online. My book lists the most popular items purchased by fans. I own a few myself.

How did you conduct your research for the book?

I watched the show every week during its original run and then watched the reruns on Lifetime in the '90s and subsequently on other cable networks. I especially looked forward to any The Golden Girls marathons. Now, I watch and rewatch regularly on Hulu. I take writing breaks (I'm always working on a new book) and watch some episodes. Since I have seen the show numerous times, some of the scenes are easy to remember for me, especially the ones with Sophia. It was fun for me to write questions, and scenes were constantly popping into my head. I researched online, asking fans what their favorite episodes were and what collectibles they owned. It's always a joy to talk to a loyal fan. Finding just the exemplary character quotes for the book was a little challenging. I wanted to represent each character fairly. I believe I did. As for the collectibles, I wanted to make sure I listed the most popular licensed and non-licensed brands. Die-hard fans collect both. There is so much Golden Girls memorabilia on the internet. There's always something new to find.

Have you interviewed any of the cast of The Golden Girls?

Yes, I spoke to Betty White once on the phone regarding one of her books and animal organizations' work. I remember her being nice. She seemed like a happy person. I can't remember what she said, but she laughed a lot. I've been in entertainment publishing for a long time, and not all celebrities I've interviewed were as friendly and accommodating as she was to talk to. It was well known she had a passion for animals. As she wrote in her book Betty & Friends, her parents passed this passion down. In 2006, she was honored to be named the Los Angeles Ambassador to Animals for her lifetime work in animal welfare. After her passing, it was reported she left $30K each to 10 different animal shelters.

Do you have a favorite episode of The Golden Girls?

There are so many memorable episodes. It's hard to choose. All 180 episodes are on Hulu, and I can watch them anytime. I like the episodes that focus on Sophia the most. I love when she talks about her life back in Sicily. I like the one in Season 4, "Yes, We Have No Havanas." That's the episode where both Blanche and Sophia are dating the same man. Then there is "Not Another Monday," from Season 5, where Sophia tries to cope with her old friend's choice of assisted suicide. Though the show was a comedy, on occasion, it didn't hesitate to cover darker subjects occasionally with humor and meaningfulness. "Ladies of the Evening," Season 2 is also good. That's the one where Burt Reynolds makes an appearance at the end. The girls are excited to attend his movie premiere and stop at a bar to celebrate. They are mistakenly arrested for being prostitutes. Sophia says, "I can't believe these dumb cops would think people would wanna pay money to sleep with you." Then, when Burt picks up Sophia for a lunch date, the shocked look on the faces of Rose, Blanche, and Dorothy are priceless.

Did The Golden Girls perform for the Queen of England?

It was no secret in the UK that the Queen Mother loved The Golden Girls so much that she invited them to perform at the 1988 Royal Variety Performance in London. The cast re-enacted two scenes but censored a few things so the Queen wouldn't be offended. The Girls got a chance to meet the Queen after the show. In her 2010 memoir, Betty White wrote: "The ladies all dropped a small curtsy as she approached. I happened to be the last one in our foursome, and after she greeted Bea and Rue and Estelle, as she got to me, she indicated the scantily clad Rockettes behind us and said to me, 'Aren't they beautiful girls?' I curtsied and replied, 'Yes, and such lovely bodies.' She lit up with a radiant smile that belied her eighty-six years and replied, 'Oh, yes, lovely bawdies.'" I read that Princess Diana most likely was a big fan of the show, but I couldn't find any confirmation. The Queen's daughter, Princess Anne, was also a fan of the show.

What do you think is the most-watched episode of The Golden Girls?

There are so many great episodes. The most watched episode was the hour-long finale, "One Flew Over the Cuckoo's Nest". In it, Dorothy marries Blanche's uncle, Lucus. As viewers know, it marked the end of one of the most celebrated shows in TV history. It was a massive event with ratings that are unheard of today. An estimated 27.2 million people tuned in to see the hour-long episode. It's hard to believe, but true.

Is it true Betty White and Bea Arthur did not like each other?

It's well known that Betty White and Bea Arthur had a feud for many years. Before the rivalry, Rue McClanahan told Television Academy: "Bea was a very, very eccentric woman. For instance, she wouldn't go to lunch unless Betty would go with her." The feud began after Betty won an Emmy award. After Bea passed away in 2011, Betty spoke out on the rivalry between herself and her costar: "Bea had a reserve." She told the Village Voice, "She was not fond of me. She found me a pain in the neck sometimes. It was my positive attitude— and that made Bea mad sometimes. Sometimes, if I was happy, she'd be furious."

Which Golden Girl is your favorite?

Sophia is my favorite. In many ways, she's the big scene-stealer on the show. I'm Sicilian, and I easily identify with her Italian nature. My grandmother was from Sicily, too, and always said witty things. When Sophia says, "Picture it, Sicily," I know it will always make me laugh. She knows how to tell a great story. You never know what she is going to say next. Sophia cracks fans up with her quick wit and wise advice. She's a strong-willed, opinionated woman and makes a great lasagna, too! Viewers have learned a lot from Sophia like she has a softer side, which is rarely seen. I never got to interview Estelle Getty when she was on the show, but one of my longtime friends lived next door to her in LA. He's a famous Cher impersonator (Wayne Smith) today, and for years, he told me stories about his friendship with Estelle, which made me feel like I knew her, too. She often made meals and left them at his door because she was concerned he wasn't eating enough. She enjoyed cooking. Wayne loved her cooking. As a good neighbor, Wayne often helped if she needed something. She also offered valuable show business advice, given how hard it is to make it in the business, which he said he will never forget.

Is it true Estelle Getty was a year younger than Bea Arthur?

I was surprised to learn that fun fact not too long ago. Funny, as the character Sophia, she was supposed to be 80. The clever makeup job on Estelle Getty and the old lady's wig and purse were fabulous! Amazingly enough, Bea Arthur is a year older than her on-screen mother. In 1988, Getty won her most notable award, the Primetime Emmy, for Outstanding Supporting Actress in a Comedy Series for her work on the show. Throughout the show, the ages of the Golden Girls from oldest to youngest were: Sophia between 80 to 85, Rose between 55 to 62, Dorothy between 54 to 61, and Blanche between 50 and 53. When researching this book, I thought the characters, minus Sophia, were much older. I had to keep checking to make sure I had it right.

Have you considered what your next book will be?

I enjoy creating fun and informative entertainment-themed books, but I must connect to what I am writing before I start. I have been working on a memoir focusing on my entertainment writing experiences. People always ask me about my interviews with legends like Elton John and Cher. The Golden Girls was an easy choice for me. It's an endearing and timeless classic. When I mention The Golden Girls to people, the first reaction is, "I love that show," or "My niece or friend loves that show." My favorite is "My mother (or grandmother) and I watched that show together." We could use more TV sitcoms like The Golden Girls.



My Neighbor Estelle Getty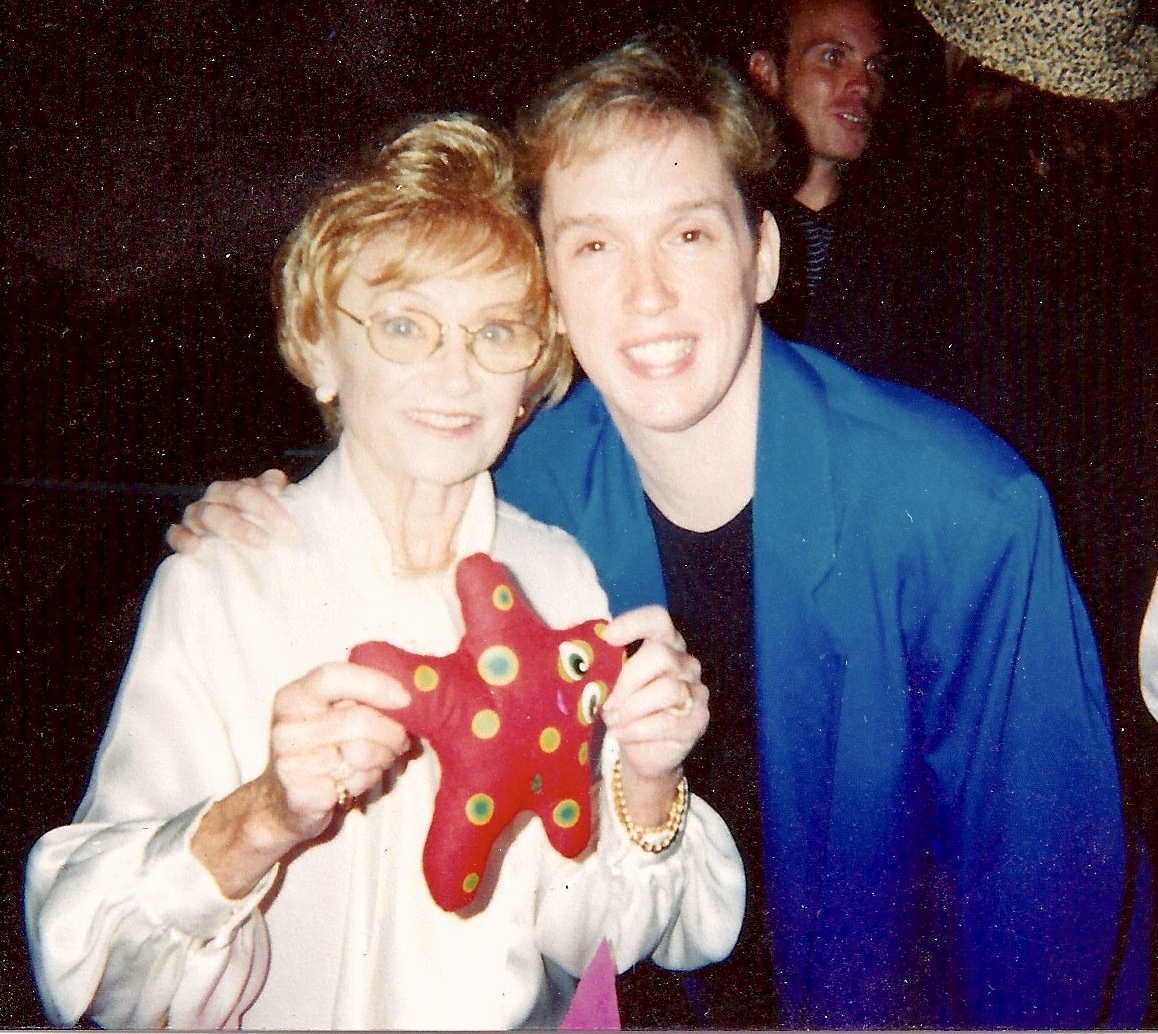 My longtime friend Wayne Smith is a popular and talented Cher impersonator. One of the best. I met him at my first Cher convention in Chicago, promoting my second book on Cher, The Cher Scrapbook. Wayne is featured in the Cher impersonators section of the book. He lived next door to Estelle Getty in Los Angeles early in his career. This was when she was starring in The Golden Girls. For years, he would tell me delightful stories about his celebrity neighbor. I asked him to write about some of his favorite memories of Estelle when they lived next door to each other.
By Wayne Smith (Wayneascher).
"One of my all-time favorite memories has to do with a new apartment, a wonderful friend, and a television star. I worked at La Cage Aux Folles for over a year when Paul Fisher, one of the fabulous servers/divas, decided we should move in together and become roommates. I was happy to oblige because we had so much fun already. We went all over Hollywood looking for just the right place to live. We found one very extravagant apartment on Hollywood Boulevard; it was ultra glamorous. It was over our budget, but Paul said his father would help us with the rent. The landlords quickly told us we would be next-door neighbors to a very famous lady. We begged them to tell us who it was, and they finally admitted it was one of the stars of the TV series Golden Girls, Estelle Getty; we were over the moon excited, and now we had to move into this building. Eugene, Paul's father, graciously agreed to help us with the rent so we would become neighbors with "Sophia Petrillo."
"Move-in day was crazy because we were holding Las Vegas-style headdresses hostage for our past-due pay from La Cage. The headdresses were tall and pink, full of sequins and feathers, and barely fit in the elevator. We were holding the feathered monstrosities when the door opened, and into the elevator walked 4'1" Estelle Getty; her only remark after confirming we were moving in was, "Oh, Great Drag Queens!!" It was mutual love from both sides immediately."
"Estelle was a fantastic neighbor and friend, always ensuring we had well-balanced meals, leaving roast chickens on our front door handles. Our balconies connected, and we could say hello to her from the other side. Estelle had a cat, Matzo, and she loved that cat; I would sometimes feed Matzo when she was out of town. We became close, and to this day, I consider Estelle a dear friend and miss her like family."
Want to know more about Wayne and his work as a famous Cher impersonator? Follow him on social media.
Golden Girls Fans Return to Chicago For Second Annual Convention
Thank you for being a friend. Golden Girls fans worldwide gathered in Chicago for the second annual Golden Convention.