The Elton John Scrapbook: Revised and Updated 
With over 300 million records sold in his five-decade career, Elton John is the best-selling artist worldwide. He ranks second only to the Beatles in the pantheon of the most collectible rock and pop artists ever. The Elton John Scrapbook Revised and Updated eBook edition is what his fiercely loyal following has been waiting for —it explores more of the much-loved legendary rock musician's extraordinary career with biographical background, interviews with his associates and musical collaborators, anecdotes, critical commentary, fan favorite lists, an ultimate pop trivia quiz, collecting Elton memorabilia, his humanitarian efforts, including the worldwide Elton John AIDS Foundation, and so much more!

Praise for The Elton John Scrapbook
"M. A. Cassata has a long history of writing fascinating books about several of the pop world's true icons. This book shows off all of her strong points, which draws upon her vast knowledge about Elton, and about the music business in general. Music fans love Cassata for her adherence to detail, and with Elton John as a subject she truly has a true field day! From fascinating facts about Elton's vast catalog of music, to his addictions, his outrageous fashion sense, his personal life, and a complete discography, this book has it all!" — Mark Bego, author of 60 books on rock & roll and show business including Elton John: The Bitch is Back

The energy, the melody, and the poetry of Elton John and Bernie Taupin—a songwriting team equal to John Lennon and Paul McCartney—demanded my attention from the moment, in 1971, that I first heard "Your Song" pouring from my stereo speakers. I've been paying attention ever since, and that's why I find M.A. Cassata's Elton John Scrapbook a delight. This revised and updated tribute—long awaited by many—contains a wealth of information and rarely seen photos that paint an intimate and unforgettable portrait of one of our most compelling performers. Cassata, a veteran rock journalist who has interviewed such icons as Bob Dylan, Patti Smith, McCartney, and Elton himself, has put together a book that his fans will treasure. —Robert Rosen, author of Nowhere Man: The Final Days of John Lennon

"Long-time entertainment journalist M.A. Cassata is in a class all by herself when it comes to covering the legends of show biz. The revised and updated Elton John Scrapbook is one of her finest works, and this very well-written, riveting glimpse into the fascinating career of the inimitable showman will delight fans of all ages." —Alissa Wolf, author of Punk Rock Princess

"The Elton John Scrapbook offers a rollicking journey through the decades of memories—a celebration of the life and career of one man. Whether you are a new fan or an old one, these pages will connect you with one of our premier entertainers and give you a greater appreciation for his genius." —Tom Stanton, NYT bestselling author and founder of the Elton Expo and East End Lights, the Elton John magazine

"I was honored to be asked to contribute to the first edition of The Elton John Scrapbook by M.A. Cassata. I've been a fan of Elton John's music for many, many years, and it was exciting to be part of a book that I thought delivered on exactly what it intended to do - offer an informative, fun and entertaining look at Elton's career. This updated version provides additional info on Elton's career through 2017."—David Sigler, Radio Show Host of Two Rooms: Celebrating the Music of Elton John and Bernie Taupin

"Refusing to take a paint-by-numbers approach and showing a true, honest appreciation for her subjects, pop-culture author M.A. Cassata has always been in a class by herself. Throughout The Elton John Scrapbook, she takes readers, and fellow fans, on a thrilling, page-turning ride that never lets up." —Vinny Cecolini, Author of Shooting the Sh*t Volume One: Conversations with Rock Anti-Heroes, Icons & Metal Gods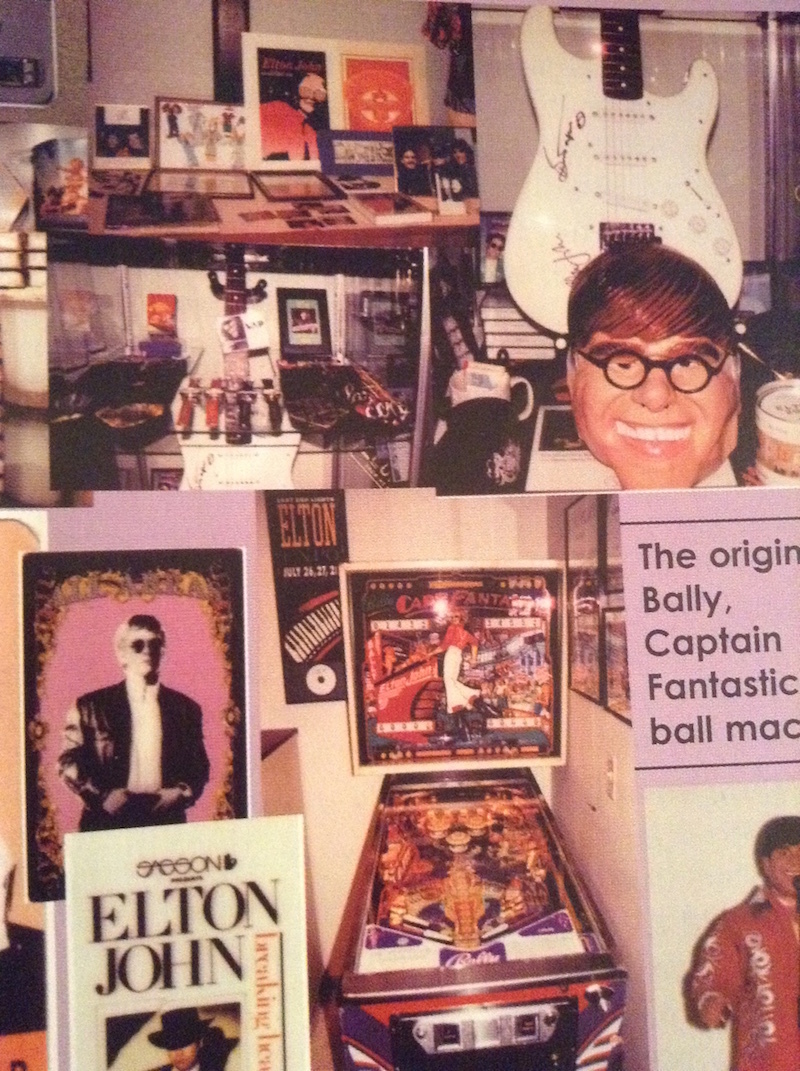 Entertainment author M.A. Cassata has announced the release of The Elton John Scrapbook: Revised and Updated eBook Edition.

The original book was published in 2002, and over the years, fans have requested that a newly updated version be published. Cassata heard her fans' requests and went to work on the new version that was just released.

Cassata has been an entertainment author for 30 years, in which time she's written for popular publications including The New York Post, Hollywood Reporter, and Rolling Stone. She's also written more than 20 books on popular celebrities including Cher, Britney Spears, Jim Carrey, Ariana Grande, and more. In addition, Cassata is the founder of the growing entertainment site themacwire.com.

Using her vast knowledge on Elton John, Cassata revised The Elton John Scrapbook to include updated information on the legendary entertainer, as well as in-depth interviews, critical commentary, anecdotes, information on collecting Elton John memorabilia, and more.

Available on Amazon and other ebook retailers.

"In 2002, Citadel Press published The Elton John Scrapbook and it quickly became a fan favorite. For years fans have asked me to revise it, but the time was never right. It is right now. I am glad I finally did it," said Cassata. "The purpose of this updated and revised edition, as with the original, is to celebrate the life and body of work of a man who continues to inspire millions and instills a sense of hope through his music and charitable works."

The Elton John Scrapbook: Revised and Updated eBook Edition has received high acclaim from readers already. Mark Bego, author of 60 books on rock and roll and show business, including Elton John: The Bitch is Back, said, "M. A. Cassata has a long history of writing fascinating books about several of the pop world's true icons. This book shows off all of her strong points, which draws upon her vast knowledge about Elton, and about the music business in general. Music fans love Cassata for her adherence to detail, and with Elton John as a subject she truly has a true field day! From fascinating facts about Elton's vast catalog of music, to his addictions, his outrageous fashion sense, his personal life, and a complete discography, this book has it all!"

Robert Rosen, author of Nowhere Man: The Final Days of John Lennon, said, "The energy, the melody, and the poetry of Elton John and Bernie Taupin—a songwriting team equal to John Lennon and Paul McCartney—demanded my attention from the moment, in 1971, that I first heard 'Your Song' pouring from my stereo speakers. I've been paying attention ever since, and that's why I find M.A. Cassata's Elton John Scrapbook a delight. This revised and updated tribute—long awaited by many—contains a wealth of information and rarely seen photos that paint an intimate and unforgettable portrait of one of our most compelling performers. Cassata, a veteran rock journalist who has interviewed such icons as Bob Dylan, Patti Smith, McCartney, and Elton himself, has put together a book that his fans will treasure."

The Elton John Scrapbook: Revised and Updated eBook Edition is now available on Amazon, iBooks, Barnes & Noble, and other online book retailers. More information can also be found at macassata.com.

For interview requests, please contact David Salidor

Email: david@davidsalidor.com
A little background on how I came to write the original Elton John Scrapbook (Citadel Press) to arriving at the revised ebook edition. A new print version will be coming soon, too.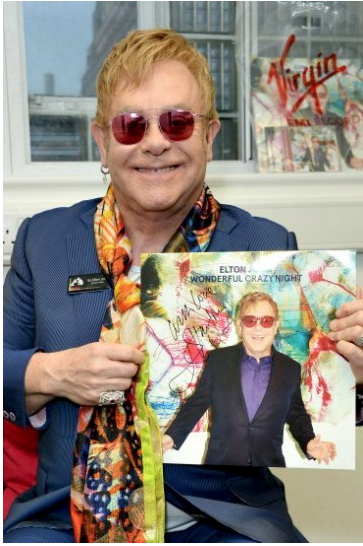 The year was 1971. The turbulent Sixties were over. The turbulence was not over in my life, it was just beginning. When I first heard the remarkably smooth voice of Elton John and charismatic words of Bernie Taupin that poured out onto the AM radio airwaves, I knew that my small Upstate life would never be the same again.

To say that Elton (or Bernie) was an inspiration is an understatement. As a young girl, I knew I was destined to be an entertainment writer. Bernie's brilliance with words coupled with the magnificence of Elton's piano playing and resonating voice would inspire me to write a million words over the years about one of the most celebrated songwriting partnerships in pop music history.

Flash forward about ten years to 1980. I had already been freelance writing for many popular national print music and entertainment publications when I was assigned to cover the historic Elton John concert in Central Park. I was fortunate to be invited to view the concert from backstage where I met and spoke briefly with Elton, Bernie, John Reid, members of the band and various celebrity guests for the first time. It was an awe-inspiring experience for a young rock music journalist.

Later that night I attended a concert after-show party held at the South Street Seaport, on a ship known as the "Peking". Many of Manhattan's elite residents attended the private bash, including John and Yoko. Of course Elton, Bernie, Nigel and Dee were there as well mingling with guests (though Elton didn't stay long). I talked with all of them throughout the night, amazingly, even John and Yoko. It was a glittering moment, one that firmly cemented my childhood dream of being an entertainment writer. After all, I was getting paid to write about Elton and company. I felt so blessed that night. Even my source at MCA Records gave me the extensive press and celebrity guest lists as a souvenir. I still have it.

That night would also be the first of many that I would be asked to cover Elton and Bernie for various print and online publications. From interviews, and press conferences to reviewing albums and concerts or simply attending industry gatherings and charity benefits, it was a supreme privilege and still is to be asked to cover any Elton John-related event.

In 2002, Citadel Press published The Elton John Scrapbookand it quickly became a fan favorite. For years readers asked me to update it, but the time was never right. I am glad I finally did, but not without the moral support of my friend and radio personality David Sigler.

Most of those who have read the original book understand the concept— fun, informative and entertaining. I am not an Elton John biographer. I never said I was and I don't claim to be an expert. There may be a couple of typos and slight misinformation, but the love and passion for the man is ever present. There are tons of books out there that go into massive detail about Elton life and career. If that's what you are looking for, then please read Philip Norman's epic bio or my friend Mark Bego's Elton John: The Bitch Is Back.

The purpose of this revised and updated edition (as with the original) is to celebrate the life and body of work of a man who continues to inspire millions and instills a sense of hope through his music (and charitable works). The power of music has saved many an aching heart and the songs of Elton John and Bernie Taupin some will say have mystically pulled us through hard times.

This eBook edition may contain a few less photos and sections from the original, but my sincere hope is that you will still enjoy this just as much. Some photos even take on a scrapbook look, while a few new ones were added for good measure. There's a super cool Foreword written by Keith Hayward, Tin Pan Alley: The Rise of Elton John and an extensive Q&A with the author in Chapter 18. There are also all new concert set lists, memorable concerts picks, Elton's personal favorites, fan recollections, finding the best of Elton online and much more.

As longtime fans already know, Elton John's undeniable talent is bigger than life itself. His humanity and humility are qualities that make him so easily likable. Perhaps Elton's uniqueness lies in such a delightful combination of supreme talent and personality. The world is a better place because he chooses to entertain us. Don't you agree? —M.A. Cassata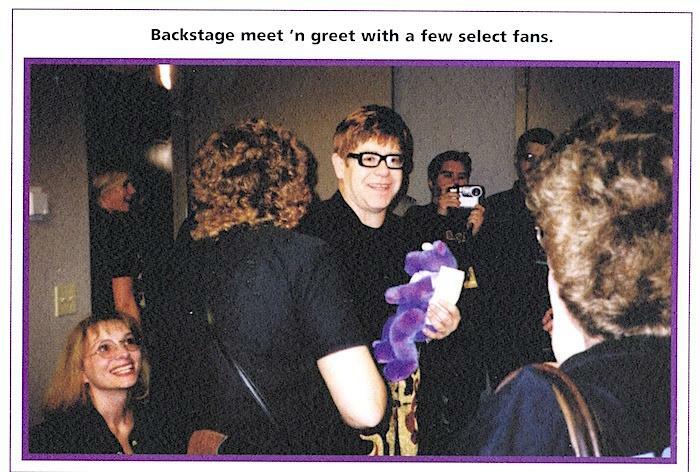 Making friends for all the world to see . . ."
The Elton John Fan Poll

An informal survey of Elton John fans conducted for this book via the original East End Lights, the quarterly magazine for Elton John fans late 1990s), and the internet reveals that Elton's appeal is not only unique, but extraordinary. Perhaps what fans admire about him the most, besides making music are his frank honesty and his wicked sense of humor. For more than four decades now, Elton has had a wide circle of fans ranging from as young as age five to as old as eighty-five. With each new project, whether it's an album, the score for a Broadway-bound play, or a tour Elton wins converts of all ages. Meanwhile, longtime legion of faithful fans still remain connected to him, just as strongly as ever.

If you were to create a formula for success, Elton John's career would be an outstanding model. From the songs he composes to his concert performances, and from his television appearances to his tireless AIDS charity work, this multi-faceted artist has been and always is one of the few people in the small elite group of artists called timeless. His many-splendored songs will be referenced and called to mind forever, even as songs from others fade away. His amazing and unselfish desire to see the end of AIDS as we know it on this planet will always be an example. One can truly see that this gifted man deserves every fan he has in this world.

There's no doubt fans stick with Elton through every facet of his fascinating and enduring career. They seem to feel that they can identify with him and easily relate to the songs he sings, particularly, those penned by longtime lyricist, Bernie Taupin. Baltimore Sun newspaper journalist and longtime fan, Lori Sears explained: "Elton is a brilliant songwriter and a terrific pianist. I'm thankful to his grandmum for sitting him down at the piano as a tot. Look at the joy we've all been fortunate to share in. I can only hope that he never stops writing music chords and melodies."

"I think it was a miracle of God to put these two musical geniuses together to drive us wild!," added Pam Quier from Brentwood, California. "The music they have written together will be with us all our lives, and I believe it will of course, go down in musical history and will be remembered by generations to come!!"

"There's no doubt that Elton's fans love him for life and they love Bernie, too," noted Robert Johnson, 40, from Dallas, Texas. "Without Bernie, there certainly would be no Elton John."

David Sigler, former publisher of Taupin, a quarterly newsletter on Bernie Taupin published in the eighties concurred: "I've been a fan of Elton as well as Bernie since 1974 when I heard "Bennie And The Jets" for the first time. Elton's sound has so many different styles from rock to ballads; his music is always there for the right time. I've only met Elton once and that in 1995 on his Made In England Tour. I will never forget that day. He was so cordial and nice. Just what you'd expect."