M.A. Cassata has authored 22 plus books on celebrities including David Bowie, Elton John, Ariana Grande, Cher, Jim Carrey, Britney Spears, and Michael J. Fox. She has sat face-to-face with some of the most iconic entertainers of our time, some of whom have been in the spotlight for decades.
A noted writer in the entertainment field, M.A. has always been fascinated by pop culture, and her diverse writing career has spanned such popular print publications as Variety, Hollywood Reporter, USA Today, The New York Daily News, Goldmine, American Songwriter, People Weekly, Rolling Stone, and many others. You can read more about her adventurous days as a much sought-after entertainment writer here.
Her passion these days is researching and writing facts and trivia quizzes on all facets of entertainment. She enjoys creating these fun and informative quiz books for readers of all ages. Her latest book is Timeless TV Trivia Quiz and Random Facts:'60s to '80s.
As former Editorial Director of the Popstar! and Faces Publications, the company published hundreds of popular celebrity specials and other entertainment/teen magazines.

M.A. continues to contribute to a variety of entertainment-oriented online and print publications. The author lives in northern New Jersey and is currently working on a new entertainment-themed trivia quiz book. She is represented by the Carol Mann Agency, based in New York City.

For publicity or press questions regarding M.A., contact her publicist, David Salidor. He can be reached at: david@davidsalidor.com/ (212) 245-5909.
M.A. Cassata's books are available on Amazon and all other online booksellers, as well as brick-and-mortar bookstores (still her favorite kind).
A Tribute To The Golden Girls: From Sharing Cheesecake to Relaxing on The Lanai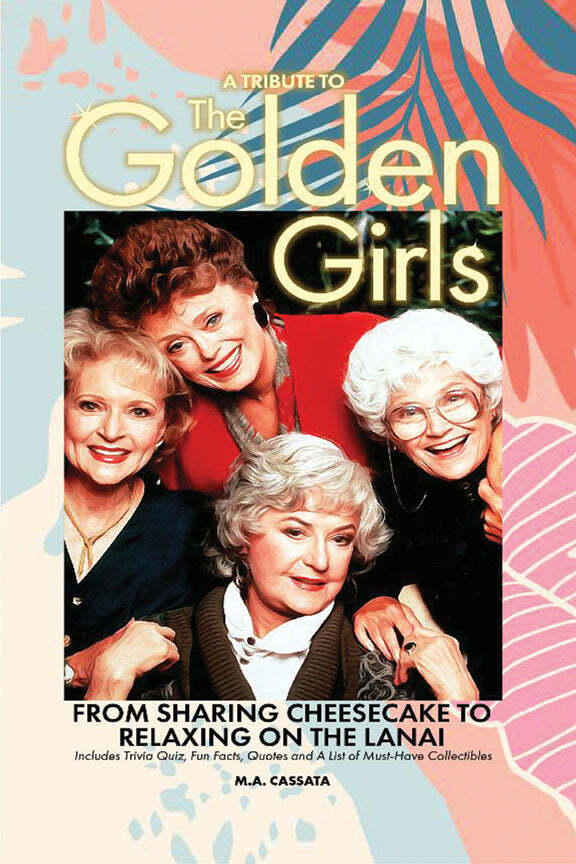 This book has everything you need to know about Dorothy, Sophia, Blanche and Rose through trivia questions, fun facts, memorable quotes and a must-have list of collectibles for the most loyal of viewers.
Doctor Who Trivia Quiz and Random Facts: 2005- 2017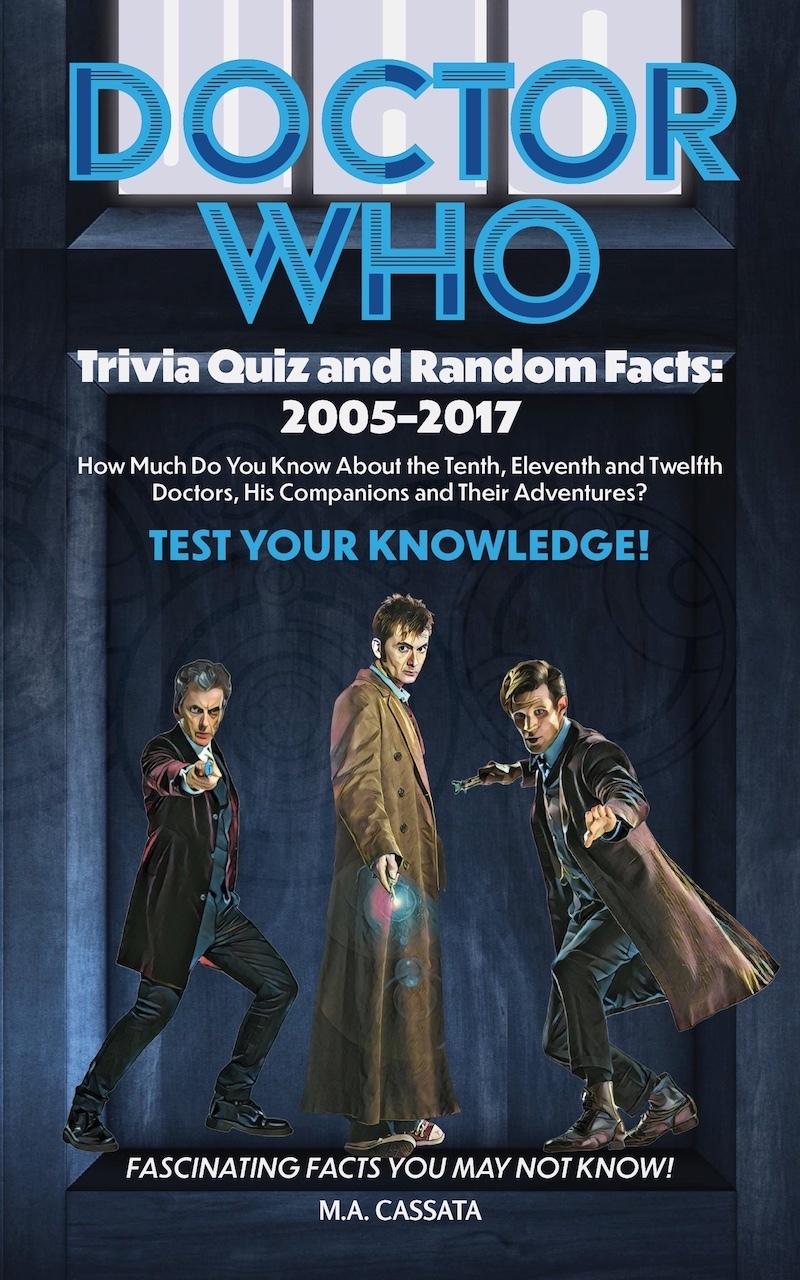 Which Doctor ate fish fingers and custard?
What were the final words the Tenth Doctor said before his regeneration?
How many years did the Doctor vow to guard Missy in The Vault?
If you love the Doctor Who that featured these three Doctors, this book is for you! There are 300 questions and answers, plus many random fun facts from 2005-2017. Many of these facts may even fascinate you.
Timeless TV Trivia Quiz & Random Facts: '60 to '80s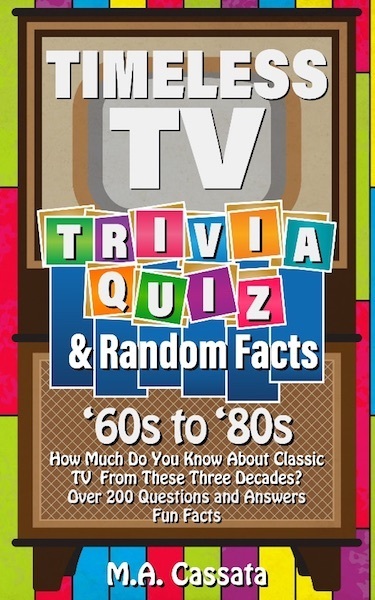 How Much Do You Know About Classic TV Shows From These Three Decades?
Think you know all the TV shows, the characters and actors— popular scenes and episodes and other TV-related trivia?
Do you know what is Radar O' Reilly's real first name or the Top Five longest-running TV shows of all time?
How about the Top 10 TV shows from 1965 or the name of the disembodied hand that delighted viewers on The Addams Family?
Take a sentimental journey through these three decades of television with Timeless TV Trivia Quiz and Random Facts: '60s to '80s and see how much you know. Test your knowledge and find out!
There's over 200 questions and answers, plus many random timeless TV show facts that may even fascinate you.
M.A. Cassata is the author of Pop 'n' Rock Trivia Quiz: '60s To '80s, The Superheroes Movies Trivia Quiz Book and other entertainment/celebrity-themed tribute books including The Elton John Scrapbook, Starman: A Tribute to Bowie, The Cher Scrapbook and The Essential Jim Carrey.
Pop 'n' Rock Trivia Quiz and Random Facts: '60s to '80s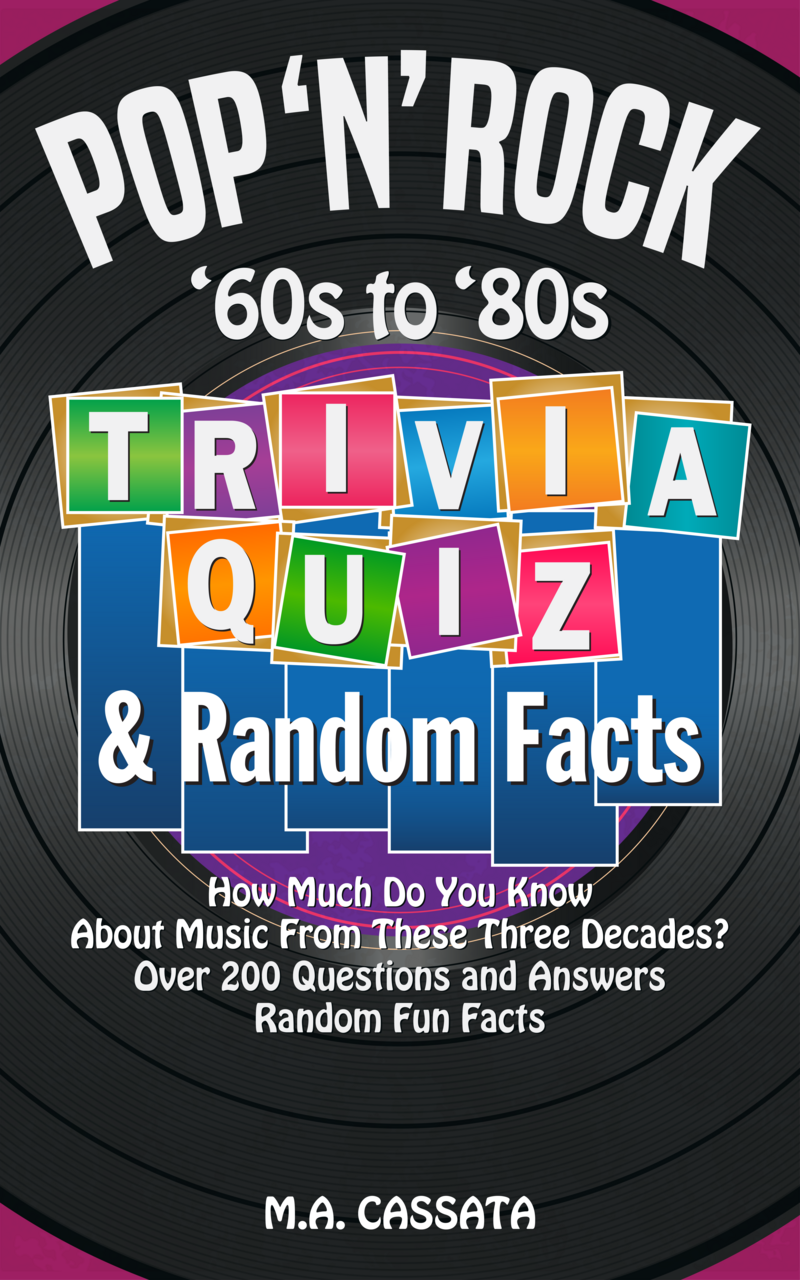 How Much Do You Know About Music From These Three Decades?

Think you know all about the artists and their songs— the hits and misses and other music-related trivia?

In 1967, what promotional film of the Beatles was aired on The Ed Sullivan Show?

What is the name of the female singer-songwriter that performed on the first-ever episode of Saturday Night Live in 1975?

Which punk rock band included such iconic talents as Johnny Rotten and Sid Vicious as members?

Take a musical journey through three decades of music with Pop 'n' Rock Trivia Quiz and Random Facts: 60s to 80s and see how much you know.

There's over 200 questions and answers, plus many random music facts that may even fascinate you. Test your knowledge and find out!

M.A. Cassata is the author of The Superheroes Movies Trivia Quiz Book and other entertainment/celebrity-themed tribute books including The Elton John Scrapbook, Starman: A Tribute to Bowie, The Cher Scrapbook and The Essential Jim Carrey.



Revised Cover For Essential Cher
I wasn't happy with the original one, so I changed it. Many Cher fans told me they were delighted with the new cover.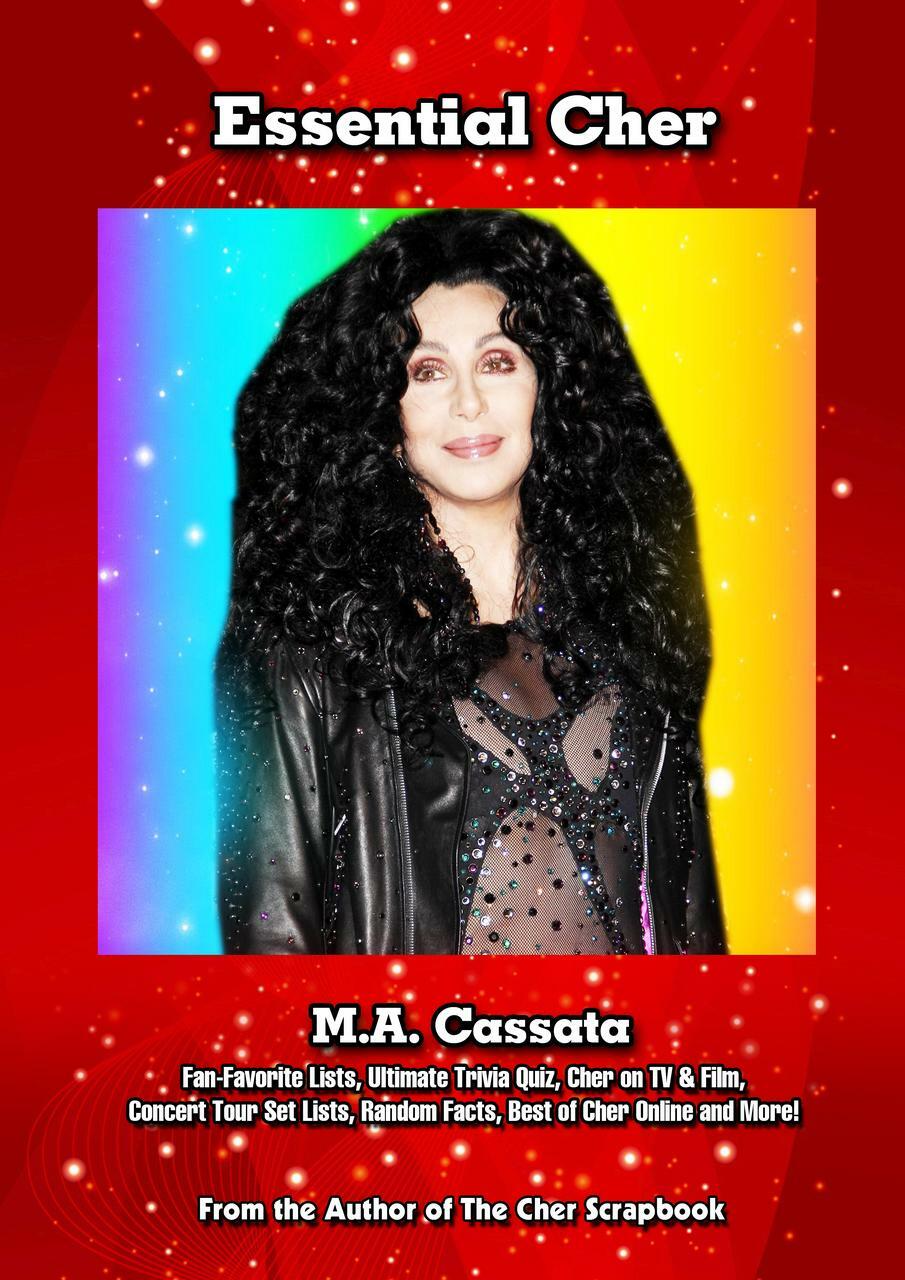 From the author of The Cher Scrapbook comes Essential Cher. This ebook guide with a revised coveris intended to be a quick and fun read for those loyal fans that like to take Cher everywhere they go. It's everything Cher from quickie facts and stats to Top 40 song lists and outrageous quotes and tweets. Plus there's a cool quiz, complete track listings to all Cher's solo recordings from 1965's All I Really Want To Do to 2013's Closer To The Truth together with a list of Sonny Bono penned songs recorded by Cher. Want to know all the Phil Spector songs Cher once sang back up on in the early 60s? It's in The Essential Cher, as well as a detailed discography, filmography and how to navigate the best Internet sites on Cher and much more!
Starman: A Tribute To Bowie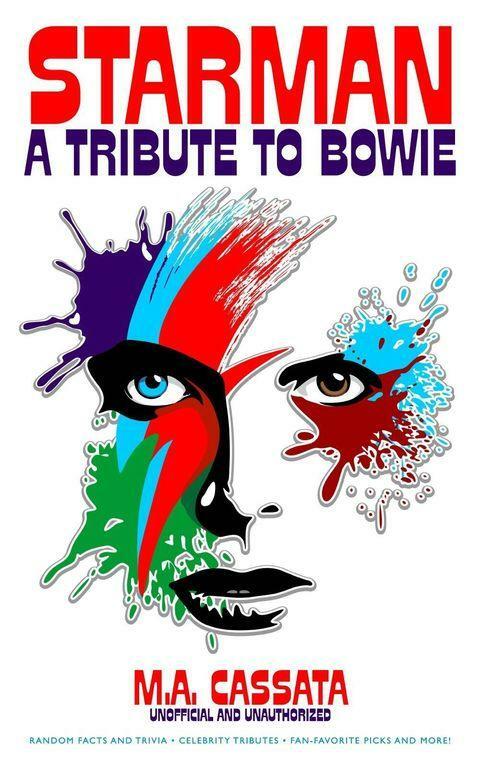 Since David Bowie's passing in 2016, there have been numerous tributes in the form of books, radio, TV and performances. He has created musical works since the mid-1960s and written some of classic rock's most memorable hits. He was a trendsetter, a rule breaker, and a true artist. David Bowie will always remain a great influence to many artists of all ages and his works will be forever timeless.

The purpose of this book is that it is as informative as it is entertaining. What follows is a collection of random facts and trivia, the artist in his own words, celebrity tributes, fan-favorite picks and more, which will give you a unique insight into one of the most revered and influential artists of all time.

As a longtime music journalist, I covered several his concerts and album reviews starting with Scary Monsters. I was fortunate to meet him briefly at a couple of music industry events. At one New York City function, I was even allowed to ask two questions for an Iggy Pop feature piece I was working on at the time and he graciously anwered the questions. Then a few years later I attended the Glass Spider press conference in New York City and a few more events followed including the Earthling, Heathen and Reality tours. I always enjoyed covering the latest on his life and career, for various entertainment print and online publication.

I don't claim to be an expert on Bowie. There are tons of books available that go into great detail about his life and career. This was not my intention. As a lifelong fan, I envisioned Starman: A Tribute To David Bowie as a fun and resourceful reference guide for the casual fan who may be interested in the basic facts, stats, quotes and compiled lists, while the more ardent follower could debate the Top 10 Fan Favorite Picks whether it be songs, albums, performances, films and other appearances.

Whatever level of a David Bowie fan you are, I sincerely hope you enjoy!
Fan-Favorite: The Elton John Scrapbook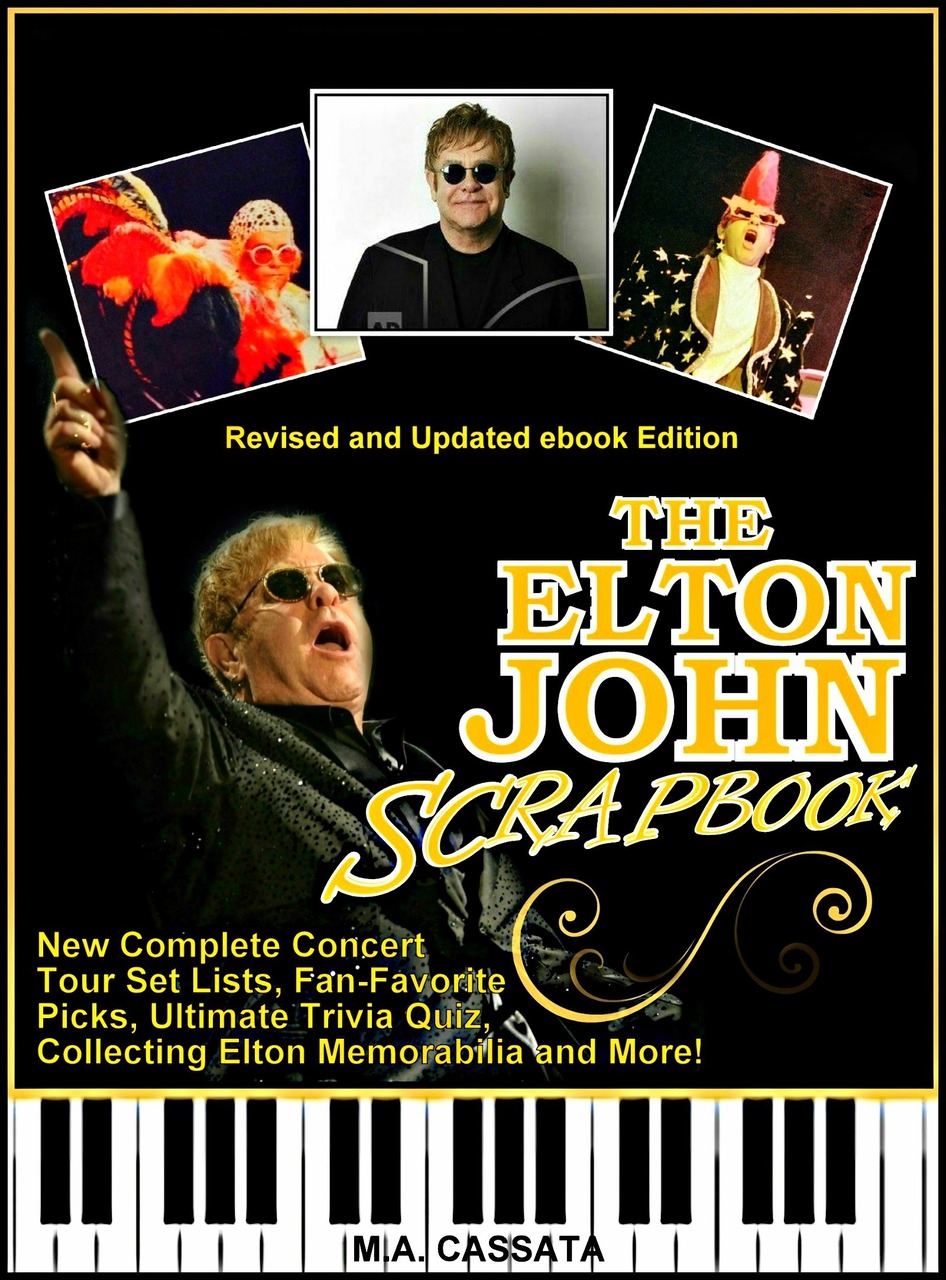 "M. A. Cassata has a long history of writing fascinating books about several of the pop world's true icons. This book shows off all of her strong points, which draws upon her vast knowledge about Elton, and about the music business in general. Music fans love Cassata for her adherence to detail, and with Elton John as a subject she truly has a true field day! From fascinating facts about Elton's vast catalog of music, to his addictions, his outrageous fashion sense, his personal life, and a complete discography, this book has it all!" — Mark Bego, author of 60 books on rock & roll and show business including Elton John: The Bitch is Back.
A Tribute To Leonard Nimoy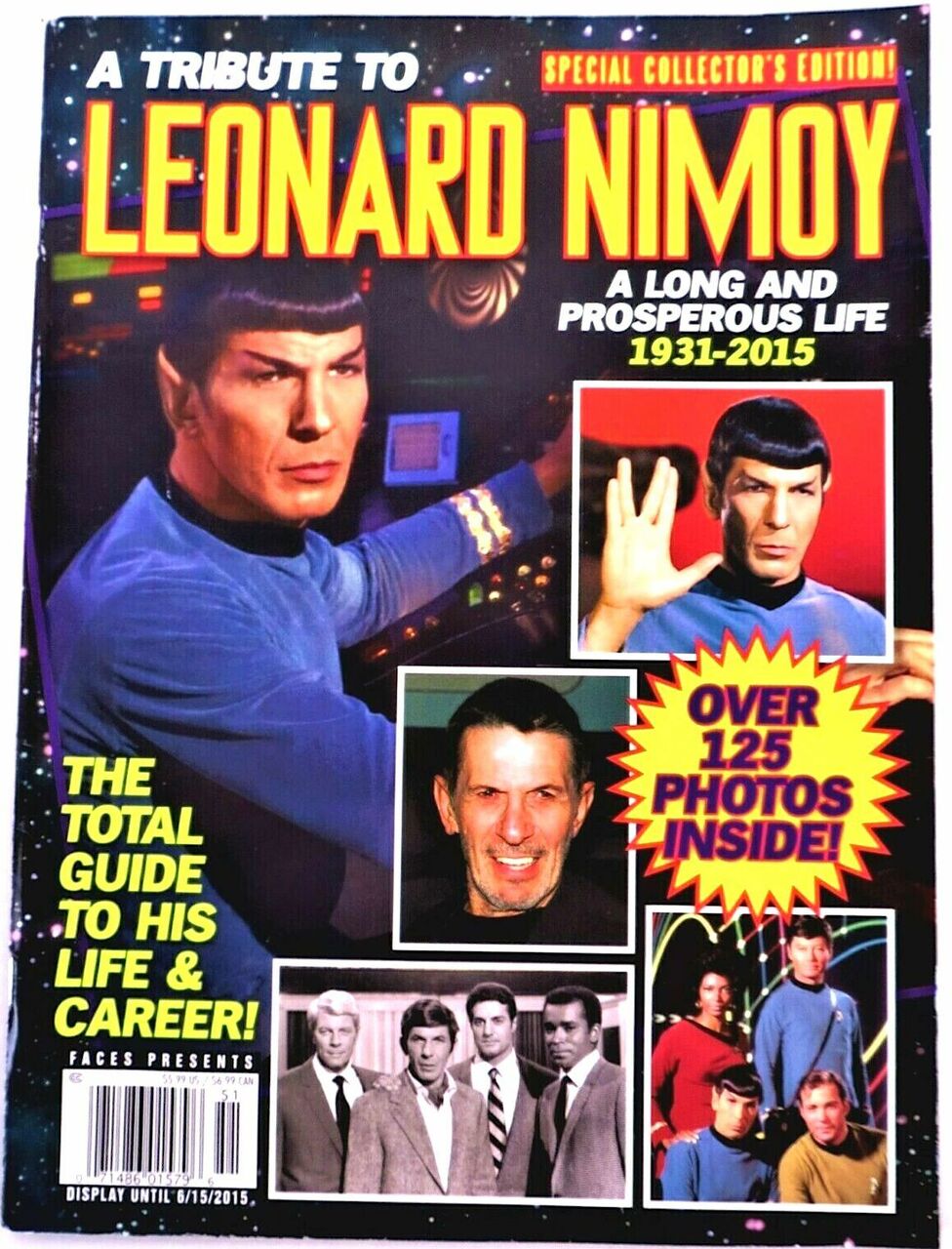 A Tribute To Leonard Nimoy Collector's Edition. A Long And Prosperous Life 1931-2015. This special included over 125 photos and was a total guide to Nimoy's life and career.
This was my last project as a fulltime editor and writer for a newsstand print publisher that I worked for 25 years. Faces Publications closed shortly after.
Book Review: The Essential Jim Carrey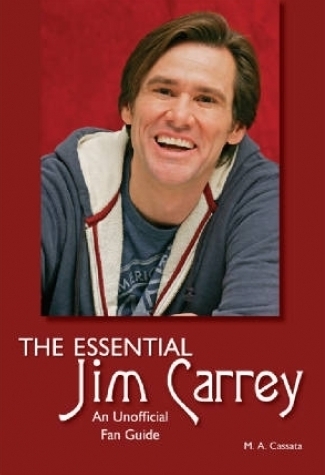 By Robert Barry Francos
Source: FFanzeen
Why am I reviewing a book about comedian / actor Jim Carrey? Well, I am proud to call the author my friend, and we support each other. She was a long-time contributor to the print version of FFanzeen, which you may have seen reprinted in this very blog.
M.A. Cassata is not new to the celebrity game, with a number of books under her belt, including ones about the Monkees, Michael J. Fox, Cher, Elton John, plus many other modern cultural phenoms, such as Britney Spears and 'NSync. But I'm here to actually talk about the book, not the author (though if you're interested in more of her work, check out macassata.com.
The book points out that Jim Carrey's idol was Jimmy Stewart. While Stewart is not usually remembered as a comic actor (though he had his shining moments), Stewart's everyman can be seen in Carrey characterizations, especially when Carrey's in his non-rubber mode.
This factoid about Carrey admiring Stewart is sort of the heart of what makes this book tick. Rather than the usually bio book of the life of whomever where the author tells us what the subject was thinking years ago, Cassata breaks the information down to the bare, well, essentials.
The Essential Jim Carrey is almost like a "book of lists" about the Canadian comedian, which is well researched in fine detail, and collected into appropriate sections, such as filmography and other works (e.g., television roles and talk show appearances), trivia facts and quizzes, quotes by both the actor and his characters, and many other spots of information. This info is conveniently broken down into sections for films, topics, etc. For me, an especially interesting part is the section where his fans, such as the "Carreyholics Society," get to spout off what they like about the man, their favorite films, and sometimes the ones that don't work for them.
There is info and pictures of Carrey in various roles, right up to his 2009 portrayal of Scrooge in A Christmas Carol (hey, this book is hot off the press, printing listed as Feb 2010). Heck, there is even a list (and description) of his films currently in development.
As much as this book is about Jim Carrey, it is also about – and for – his legion of fans. Yet, as gushy as this book sometimes becomes (in this case the direction one wants to go), it does not shy away from the knowledge that not all his films have been popular (such as The Majestic and, to some extent, The Cable Guy), and even his fans get to spout off what they think are his worst, as well as his best. There are also quotes about Carrey's performances by various film critics, listed under banners of the films they reviewed. His co-actors also get a section to state what it was like to work with him.
Everything is very neatly packaged for the reader to find out what they want, including an extensive bibliography, and what memorabilia is most popular (and how much it sold for in auctions). It's all very fun, breezy, and user – I mean reader friendly.
This is the kind of book I like to read before I go to bed, or, yes I'm going to say it, in the bathroom (I had the 50th Anniversary Edition ofRipley's Believe It Or Not in my "library" by the throne for years…and now it looks like Carrey may be playing Ripley in a future flick…cosmic!). This book is chock full of short, fun facts, as well as Carrey's history, both before fame and since.
To set the record straight, I thought he was brilliant on In Living Color, and my fave films of his are The Mask (I was a fan of the Dark Horse comic it was based on) and the bravo performance in Man on the Moon; I'm actually drawn towards his more serious work. Lastly, and this is important: one of the fans thanked and quoted is listed as Robert F. of Brooklyn. This is not me. Okay? Got that? Good. Now go out and get the book if you're a fan: It's essential.

(Additional Fan Reviews):
Just got the The Essential Jim Carrey by M.A. Cassata and I love it! I'm a huge Jim Carrey fan. Folks, this is the definitive book for the ultimate Jim Carrey fan or collector. It's apparent that this writer has a wealth of knowledge on the beloved actor, as well as a deep respect for the man & the actor. —L. Haneley

WOW! I have The Essential Jim Carrey book. I cruised around online and took a chance with this book. I was not disappointed. I've been a fan of Jim Carrey's for so many years. I think he's more than just a great actor, he's a true gentleman as well. I had the honor of meeting him briefly in NY. He didn't act like a celebrity at all. This book is a treasure in that it contains everything any Jim Carrey fan would love & appreciate. —R. Taylor

I purchased The Essential Jim Carrey book and think the author did a splendid job of bringing Jim Carey the actor into the readers heart & soul. She also lets us peer deeply into the personal life and the tremendous charisma that Carrey brings to everything he does, whether personally or professionally. I love this book, it's better than most of the Jim Carrey books out there, as most of them are biographies, and this one is a tribute book— a really good tribute book! —J. H. Winger
M.A. Cassata Rules the Roost as Queen of Celebrity Tribute Books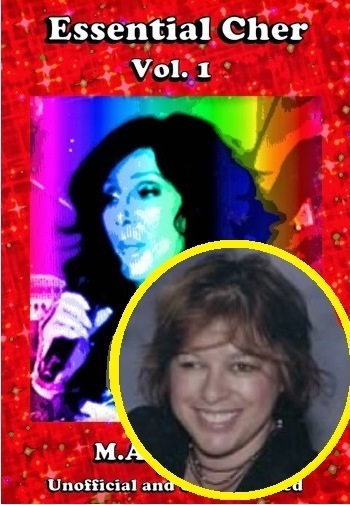 By Keith Girard
Mary Anne Cassata is the queen of celebrity tribute books. She's written about almost every major artist of the past 25 years, but of them all, Cher is the most fascinating to the celebrity writer.
She published her first Cher book, "The Cher Scrapbook" (Citadel Press) in 2002. Her latest is tentatively titled: "I Got You Babe: The Sonny & Cher Years" (BearManor Media).
Indeed, she's become Cher's Boswell. The fan reaction to "The Cher Scrapbook" was so strong, she began working on follow up, "The Essential Cher."
After it was published, reader suggestions poured in, and she realized a second book was in order. "I added a few ideas of my own," she says, and wrote "The Essential Cher, Vol 2," which is slated for release later this year.
"The second volume will include more in-depth sections on Cher that were not included in Vol. 1, as well as more Sonny and Cher related sections," she says.
"There's a lot of new material including more facts and stats as well as a new quiz, concert tour set lists and where to find the best Cher sites on the internet," she adds.
Some of her other early books include a book based on The Monkees 20-year reunion entitled, "Hey We're The Monkees" (Signet, 1986),The Elton John Scrapbook (Citadel, 2002) and "The Essential Jim Carrey" (BearManor Media, 2010).
For Casata, best known by her pen name, M.A. Cassata, writing has been a part of her life since high school in Rochester, NY. She started penning articles for local newspapers and magazines when she was 15.
"I got a job with a big chain record store called Record Theatre and started freelancing," she says. "That's when I started interviewing music artists like Elvis Costello, Ann and Nancy Wilson (Heart), Harry Chapin, Billy Joel, Mike Love (The Beach Boys) and Prince."
Since moving to New York City in 1981, Cassata has interviewed some of the biggest names in show business for publications like Variety, The Hollywood Reporter, USA Today, The New York Daily News, American Songwriter, People Weekly, Rolling Stone, Hit Parader and others.
Her favorite subjects include Hollywood stars like Jim Carrey, who "always makes me laugh and has a very strong dedicated fan base, including me," she says.
She's also interviewed Ryan Gosling, Leonard Nimoy, Patrick Stewart, Leonardo DiCaprio, Robin Williams, Michael Landon, Elizabeth Taylor and George Burns.
Johnny Depp also stands out. "He is cool and such a brilliant actor. There's a star with a big heart."
Her specialty has always been celebrity tribute books. "For me, it's really all about the music and the fans," she says.
"I've always stayed positive when I write about musicians, I don't bother with the scandals and that is how I've managed to get interviews with legends like Bob Dylan, Michael Jackson, Paul McCartney, Elton John, Keith Richards, Patti Smith, Cherand Ringo Starr.
Her writing has also translated well for the latest trend in publishing, electronic, or e-books.
"I love the portability of e-books because you can take your favorite books everywhere you go. It's great for fans who want quickie facts and stats on their favorite celebrity at any given time on their mobile devices," she explains.
"The Essential Cher Vol. 2" will be released late 2014 as an e-book. Cassata has also written e-books on breaking artists like Ariana Grande and One Direction, all of which include "Fun Facts, Stats, Quizzes and Quotes," she says.
Her e-books are available on Amazon's Kindle, Barnes and Noble Nook, iBook and other popular e-book stores.
"I write because I must. I have a passion for writing entertainment," she says. "I want to write the best possible story. I think it is important to give hope to readers so I try to focus on celebrities that have a positive message to offer."
Cassata is represented by the Carol Mann Agency, based in New York City. For more information check out her Web site at macassata.com
Test Your Knowledge With "The Superheroes Movies Trivia Quiz Book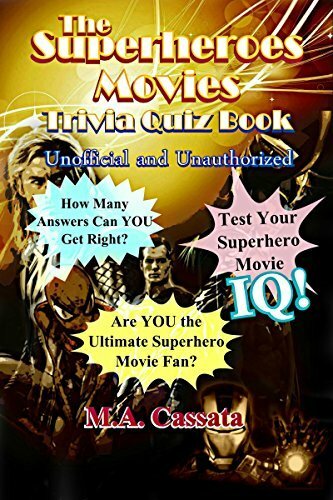 The Mac Wire Book News Desk
Are you a fan of superhero movies? Are you already working on your costume for the next midnight release? Do and your friends go head to head in debating who is better, Batman or Superman?

Then you're going to want to check out "The Superheroes Movie Trivia Quiz Book" written by celebrity tribute author M.A.Cassata.
This ebook features 160 questions which range in difficulty. Test your knowledge on Batman, Superman, Spider-Man, Iron Man, Thor, Captain America and many more big screen superheroes. Lots of superhero girls included too! Are you more of a villain fanatic? This book has got questions for you too.
This ebook is great for long car rides or just to strike up conversation around the dinner table…who knows maybe there is a Captain America fan in the family that you didn't know about.
Download your copy on Amazon and other popular ebook stores today!
Like quiz or celebrity tribute books? Check out more titles by the author at M.A. Cassata.com
Print version is also available.